Makes 6 servings

Ingredients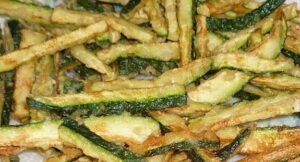 • 3 zucchini, about ½ pound each
• Flour for dredging
• 3 eggs, beaten
• Oil for deep frying
• Salt to taste
Directions
Trim the ends off the zucchini. Cut them into 3-inch lengths, and cut each piece lengthwise into flat ¼ -inch-thick slices (you want them to be rectangular; do not cut them into rounds). Then cut the slices into ¼ -inch strips (they should look like 3-inch matchsticks). Drop the sticks into cold water and let stand 1 minute.
Drain and pat the zucchini dry on paper towels. In a bowl, sprinkle the zucchini and combine them with the eggs, tossing with your hands until the zucchini is coated.
Heat about 1 to 2 inches of oil to about 375°F. Fry the zucchini in batches, stirring to separate the pieces, about 1 to 2 minutes each, or until crisp. Set aside on a paper towel to drain. Sprinkle with salt and serve immediately.