Makes 8 to 12 Servings
Ingredients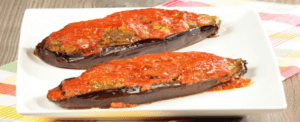 Eggplant Ingredients:

Oil for deep frying
1 ½ pounds eggplant
Flour for dredging
3 large eggs
2 tablespoons finely chopped parsley

Filling Ingredients:

½ pound mozzarella cheese, cut into quarter-inch cubes
½ cup finely shredded ham, preferably prosciutto
1 egg
2 cups ricotta cheese
¼ grated parmesan cheese
1 tablespoon finely chopped parsley
Salt and ground pepper to taste
2 to 3 cups Marinara sauce
Directions

Preheat the oven to 500°F. Heat the oil for deep frying over medium-high heat.
Trim off the ends of the eggplant and cut lengthwise into 8-inch long slices. This should be about 12 center-cut slices. Discard the trimmings. Dredge the slices in flour to coat all sides. Shake off the excess. In, a bowl beat the 3 eggs with 2 tablespoons parsley. Dip the eggplant slices in the egg to coat well. Fry the slices, a few at a time in hot oil, about 3 minutes for each batch, or until browned. Drain well.
To make the filling, in a medium bowl, combine mozzarella with ham, egg, ricotta, parmesan, parsley, and salt and pepper. Place the fried eggplant slices on a flat surface. Add equal amounts of filling toward the base of each slice. Roll to enclose the filling.