Makes 12 Large Rice Balls
Ingredients
• 4 Cups Italian (Arborio) white rice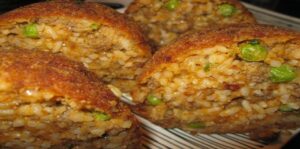 • 1 packet saffron (.5 grams or .04 ounces)
• 1 tablespoon salt
• ½ tablespoon pepper
• ¼ pound grated pecorino cheese (1/2 cup)
• 1 ¼ pounds grated dry white mozzarella
• 10 large eggs
• Oil for deep frying
• 1 tablespoon olive oil
• ½ medium onion, diced
• 1 garlic clove, diced
• ½ pound chopped meat
• ½ cup tomato sauce
• ¼ cup green peas
• 1-pound bread crumbs
Directions
Cook the rice in 8 cups of water with the saffron and salt to taste to al dente, about 15 to 20 minutes. Spoon rice into a large bowl or spread onto a sheet pan to cool. When the rice has cooled, mix in the salt, pepper, grated pecorino, and ½ pound of the mozzarella; stir in 2 whisked eggs.
Heat the oil for deep frying, about 360f.
To make the center stuffing, heat the olive oil in a sauté pan over medium-high heat and sauté the onion for 3 minutes; add the garlic and brown the onion, stirring, about 7 minutes. Add the chopped meat and sauté until cooked all the way through, about 8 minutes. Stir in the tomato sauce and peas, bring to a simmer, and cook until the peas are just cooked through, about 3 or 4 minutes. Let the mixture cool completely, then stir in the remaining mozzarella.
Fill a wide shallow bowl with water and dip the palm of your hands in it before rolling rice balls. Roll the rice mixture into large balls, about 3 inches in diameter. While holding the ball of rice in the palm of your hand, gently push the thumb of your other hand three quarters of the way into the rice ball, making a rather large round indentation, then stuff the ball with a couple tablespoons of the chopped meat mixture. Seal the meat inside the ball with more rice and, using you palms, roll the ball gently to reshape. Continue with the rest of the rice and meat mixture until done. Whisk the remaining 8 eggs in a bowl, coat completely repeat this three times. Fry until deep golden, about 4 to 6 mins, and set on paper towels to drain. Serve warm or at room temperature.