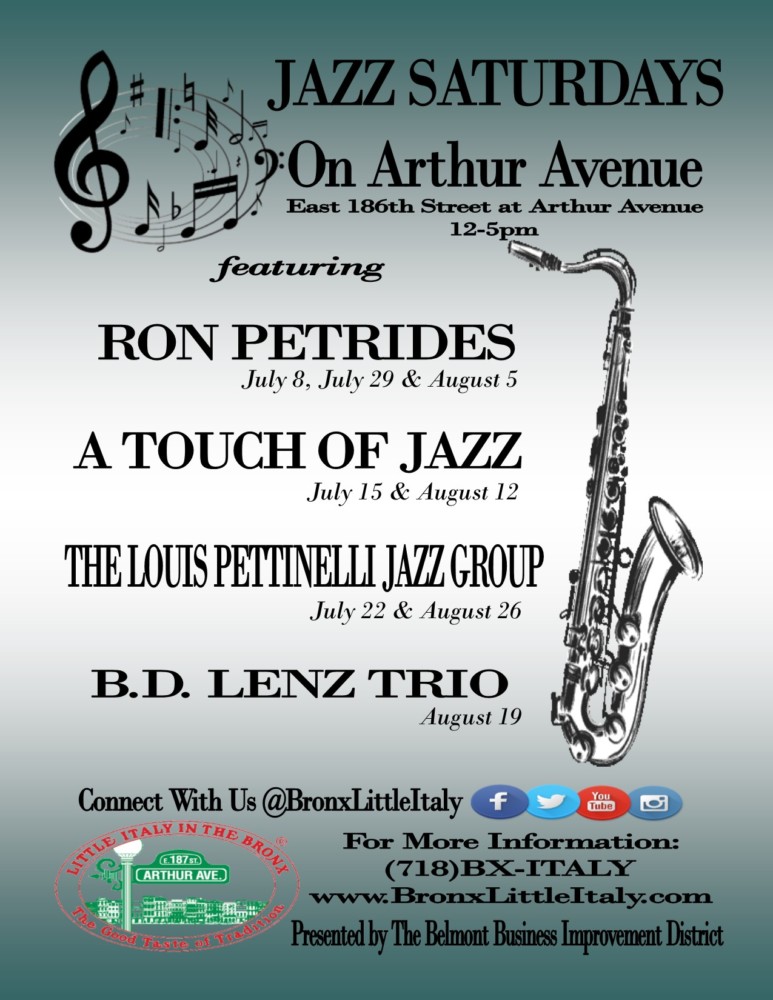 We're enthusiastic to about introducing Jazz Saturdays to the summer months. Each Saturday, a jazz band will perform on East 186th Street at Arthur Avenue to brighten up the neighborhood and provide lively entertainment. Some tables and chairs will also be set up so you have the opportunity to relax from the hustle and bustle. The schedule of performances is as follows: Ron Petrides – July 8, July 29, & August 5, A Touch of Jazz – July 15 & August 12, The Louis Pettinelli Jazz Group – July 22 & August 26, and B.D. Lenz Trio – August 19.
Learn more about our performers:
Ron Petrides is a New York based Guitarist, Composer and Educator. He made his TV debut at the age of 15 playing the bouzouki on Athens National Radio. At 16, he switched to jazz guitar, helped him quickly springboard into the position of a young lounge and pit orchestra musician in Las Vegas, backing up such legends as Tony Bennett, Lena Horne, Vic Damone, and many others. He has since carved out a prolific career of jazz guitar performance and education based in New York City. Having graduated with a Ph.D. in Composition from NYU in 2008 (with an original dissertation on the life and music of late 20th century composer Stephen Albert), Dr. Petrides has been on faculty at an array of schools in New York including NYU, Colombia University, Mercy College, and The New School for Jazz and Contemporary Music. His range of composing flows from the realms of jazz to works for chamber ensembles, to piano sonatas, to transcriptions of Greek folk music, to orchestral overtures. He has several CD recordings to date, including Mongolia, and Café Aman America by Music World Productions. The latest CD Keepin in Stride, features only the original music with George Cables on piano, Dave Schnitter on saxophone and Chris Pasin on trumpet. Petrides has recorded and shared the stage through the years with such greats as Walter Bishop Jr., Dizzy Gillespie, Duffy Jackson, Billy Hart, Bob Mover, Ron McClure, Pete Minger, Gerry Gibbs, Essiet Essiet, Dave Holland, Emanuel Harrold and many more – being a regular attraction on the New York, national, and international jazz circuits, while performing and teaching seminars throughout the U.S., Canada, Russia, Mexico, and Europe. Ron Petrides is a contributing writer for Modern Drummer Magazine.
A Touch of Jazz presents Ron Jackson (guitar), Paul Beaudry (bass) and Sedric Shukroon (sax) – three New York musicians who have been working together since the early 2000s. They have toured the world as U.S. cultural Jazz ambassadors, played Jazz parlors in Harlem and gotten people to dance in bars and clubs with their ever infectious energy and passion. The style is a blend of jazz, soul, pop, Caribbean and Latin. They bring it all together in a unique approach that's playful, easy and fun.
The Louis Pettinelli Jazz Group is a dynamic and exciting ensemble composed of some of The Tri-State Area's finest jazz musicians. Led by bassist Louis Pettinelli, this group has performed in and at a diverse variety of venues and events throughout The East Coast, including The Gansevoort Park Hotel, Chris' Jazz Cafe, Manhattan Penthouse, and The Homer Building in Washington DC. Members of the group have performed with musicians including legendary NEA Jazz Master Bassist Buster Williams, Guitarist Paul Bollenback, Pianist Dave Leonhardt, Saxophonist Larry McKenna, and more. The Louis Pettinelli Jazz Group performs a diverse variety of jazz music, ranging from classic selections from The Great American Songbook, Bebop, and Hard Bop Eras, to creative and imaginative arrangements of fusion jazz compositions, and pop and rock standards done in a jazz style. They are available for weddings, corporate events, and any other public or private events that require live jazz entertainment.
Even if you've never heard of funk/jazz guitarist B.D. Lenz it's very possible you've heard his music before – it's been featured on hundreds of TV shows around the globe. He's released ten CDs of his unique brand of funky jazz that fuses virtuoso musicianship with expert songwriting. Joining B.D. will be James Rosocha (bass) and Koko Bermejo (drums). Together, this trio will keep you surprised with their eclectic mix of jazz standards, original jams, and pop classics
---